BOOKSMART PUTS A PURE FUN, FRESH AND FEMALE SPIN ON THE HIGH SCHOOL COMING-OF-AGE COMEDY WITH A HILARIOUS SCRIPT AND EXCELLENT PERFORMANCES FROM ITS LEADS.
On the eve of their high school graduation, two academic superstars and best friends realize they should have worked less and played more. Determined not to fall short of their peers, the girls try to cram four years of fun into one night.
Director: Olivia Wilde
Writers: Susanna Fogel, Emily Halpern | 2 more credits »
Stars: Kaitlyn Dever, Billie Lourd, Skyler Gisondo |
You All Know The high school coming-of-age comedy is a sub-genre unto itself, with each decade delivering movies that have become classics, like American Graffiti, Fast Times at Ridgemont High, Ferris Bueller's Day Off, Can't Hardly Wait, Superbad, Easy A and more recent films such as The Edge of Seventeen and Lady Bird. Now comes Olivia Wilde's directorial debut, Booksmart, which follows two straight-laced students who decide to get in all the partying they missed throughout high school on the night before their graduation. With raucous adventures and a sweet story of friendship, Booksmart also blends all the emotional growing pains of transitioning into adulthood with some truly ridiculous and raunchy comedy. Booksmart puts a fun, fresh and female spin on the high school coming-of-age comedy with a hilarious script and excellent performances from its leads.
Booksmart actually follows student body president Molly (Beanie Feldstein) and her best friend Amy (Kaitlyn Dever) on their last day of high school and the eve of their graduation. Their day seems to be going as normal until Molly learns that some of her peers are attending exceptionally prestigious colleges, including the girl nicknamed Triple A (Molly Gordon), who will be attending Yale with Molly. After discovering they missed out on both partying and getting into good colleges, Molly decides she and Amy have to make up for all their missed partying in one night. However, all the ups and downs of their night put a strain on Molly and Amy's friendship. As other secrets come to light, it remains to be seen what effect their hijinks will have not only on their reputation at school, but their futures and their friendship.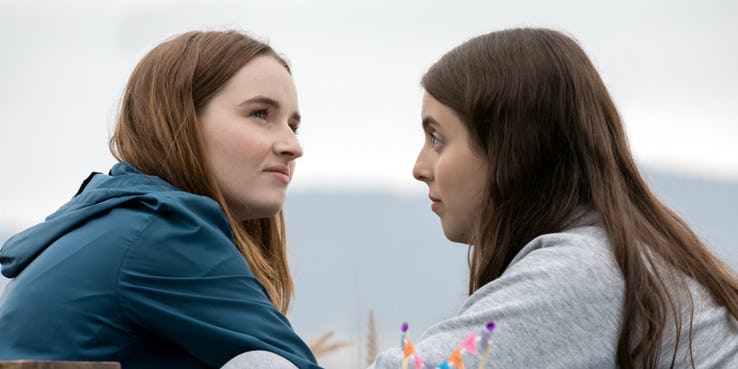 Not only does Booksmart put two female characters front and the center, spotlighting their friendship, the film was directed by Wilde from a script by Trophy Wife creators Emily Halpern and Sarah Haskins, Susanna Fogel (The Spy Who Dumped Me) and Katie Silberman (Set It Up, Isn't It Romantic). That's all to say, Booksmart is an authentic story about two young women, starring young women, told by women. That authenticity shines especially in the script for Booksmart, which is sharp and funny, nailing the characters of Molly and Amy while effectively developing their friendship as the emotional core of the movie. Booksmart manages to deftly balance the more over-the-top – and, at times, unbelievable – comedic moments with genuinely touching dramatic beats. Altogether, Wilde and the screenwriters Halpern, Haskins, Fogel and Silberman collaborate to bring something new to the high school dramedy genre.
In front of the camera, Feldstein and Dever are easy to love as Molly and Amy, respectively. The success of Booksmart rests on their shoulders and both actresses prove adept at carrying their leading roles well, bringing empathy and humor to their characters. Though Molly comes off as a caricature of a dedicated student at times, Feldstein's performance adds much needed depth to the character, especially in the second half of the film. But throughout the entire movie, Feldstein and Dever have a charming chemistry as friends that shines in Booksmart. In addition to the two leads, the young cast of Booksmart is quirky and fun as their respective characters, working well as supporting players in a movie that essentially belongs to Feldstein and Dever. There are also some entertaining performances from the adult cast, including Lisa Kudrow and Will Forte as Amy's overly supportive parents, Jason Sudeikis as the girls' hapless principal, and Jessica Williams as their cool teacher Ms. Fine. Altogether, it's a solid cast that helps bring Booksmart to the life.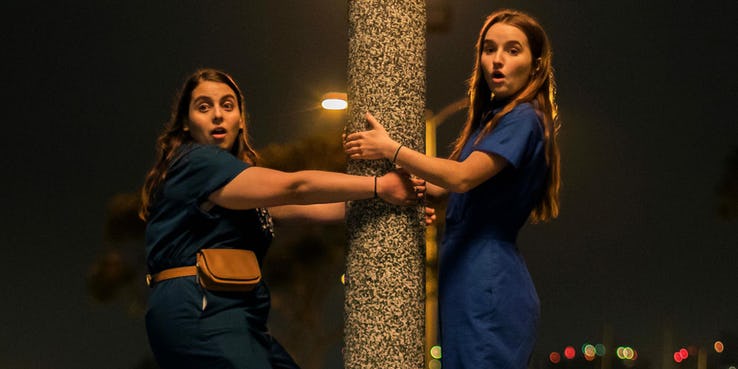 In a genre as crowded as the high school coming-of-age comedy, it's tough for new movies to stand out and offer a fresh perspective on this particular time in a young person's life, but Booksmart just does that. Certainly, you can say there are many similarities between Booksmart and previous movies in the genre: its premise is reminiscent of Superbad, Molly is a more developed version of the Type A class president stock character, the disconnected adults, etc. But Booksmart puts its own spin on each of these elements, following a pair of girls (one of which identifies as gay) and developing its specific characters and high school world so well as to set the film apart from others that came before. Like previous high school comedies that became classics in their own right, Booksmart tells a solid core coming-of-age story that's then bolstered by plenty of comedy.
As such, Booksmart is really worth a watch for anyone interested in coming-of-age high school comedies. Even viewers who are far removed from their own high school days will find something to relate to in the hijinks of Molly, Amy and their classmates (or, at the very least, in the adults who populate their world). The evolution into adulthood is a timeless theme that has been explored plenty of times in Hollywood, and will continue to be explored by future generations of filmmakers. With Booksmart, Wilde and screenwriters Halpern, Haskins, Fogel and Silberman tell a story that taps into the current moment while maintaining an agelessness that ensures Booksmart will become a favorite of viewers young and old. Whether Booksmart joins the ranks of classic high school comedies remains to be seen, but it's nevertheless a wholly entertaining moviegoing experience.
Booksmart starts playing in the U.S. theaters Thursday evening May 23rd. It is 102 minutes long and rated R for strong sexual content and language throughout, drug use and drinking – all involving teens.
Let us know what you thought of the film in the comments section!