Tech
Are You Going on a Space Trip in a Hot Air Balloon, Not a Rocket
IN RECENT YEARS, SPACE TRAVEL BY CONGLOMERATES AROUND THE WORLD, FAMOUS FOR THEIR GEEKS, HAS BEEN PURSUED IN SUCCESSION, ATTRACTING INTEREST. FOLLOWING THE LOSS OF THE FIRST TAPE OF SPACE TRAVEL BY THE CHAIRMAN OF THE VIRGIN GROUP IN THE UK, THE FORMER CEO OF AMAZON, THE WORLD'S LARGEST INTERNET SHOPPING MALL, IS ALSO PREPARING FOR A SPACE TRIP SOON. THE CEO OF TESLA, THE FOUNDER OF SPACEX, ALSO PROFESSED TO PURSUE SPACE TRAVEL NOT FAR AWAY.
for the general public, however, the space travel of these conglomerates is just a picture cake. at least 200 million won is a huge burden. however, if we wait for a little, we are looking forward to providing a new concept space travel service that is not embarrassing for the chaebols. it is a space travel service using hot air balloons.
climb up to the stratosphere to observe earth and space
IT'S A MISCALCULATION TO THINK OF IT AS A HOT AIR BALLOON, WHICH IS OFTEN SEEN ON TV. AS IT IS A JOURNEY UP TO THE STRATOSPHERE, THE CAPSULES FOR THE EQUIPMENT AND TRAVELERS WILL ALL BE MADE OF THE BEST MATERIALS IN EXISTENCE.
Polyethylene balloons are filled with hydrogen, and capsules are made of special materials that can withstand pressure as much as they need to keep travelers safe in outer space. Named Spaceship Neptune, the hot air balloon is developed by Space Perspective, a new U.S. space travel startup.
The company is a startup that has already gained prominence through the World View project even before it began its hot air balloon project. WorldView is a project that attaches sensors to balloons shot into the stratosphere to take real-time photos of space and Earth.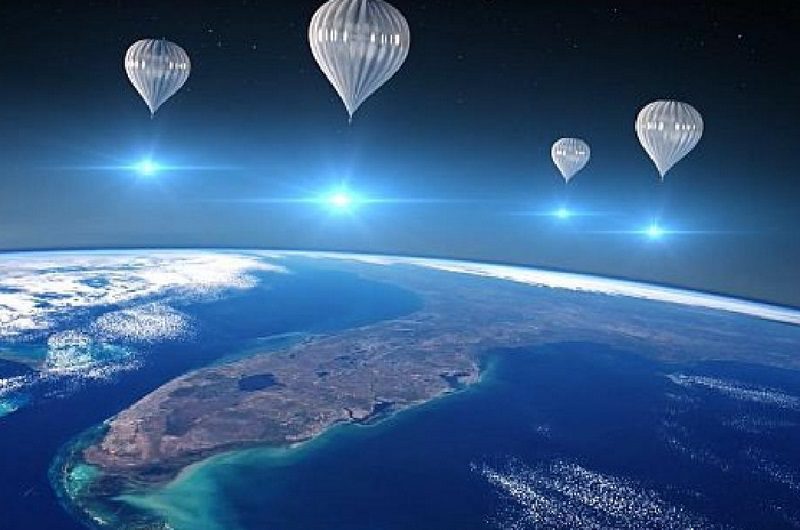 the balloons and capsules that form the spaceship Neptune are in the same shape compared to conventional hot air balloons but differ significantly in size and material. first of all, balloons are so massive that they reach 100 meters in length.
capsules are also much larger and more elaborately crafted than the boarding seats of regular hot air balloons. the developer explains that the stratosphere, carrying eight passengers and one pilot, must run at a speed of 19 kilometers per hour, so it is designed to be almost similar to a spacecraft.
once the balloons and capsules are built, the hot air balloon will rise 30 kilometers above the ground. the height of the stratosphere is approximately 2 hours, and travelers can stay for about 2 hours and explore the earth and space simultaneously through a window. it is expected to take a total of six hours to return to the place when the tour is completed.
interestingly, the startup began booking a ride in a situation where spaceship Neptune hasn't even been made in real life yet. the cost is $125,000 per person, which is difficult for citizens to use, but if commercialization is made, the price is expected to be significantly lower.
comfortable space travel that compensates for the inconvenience of using rockets
spacepuspective is confident that it can travel space by hot air balloon because it has already obtained experience and information that has been safely returned to the stratosphere using unmanned hot air balloons seven years ago.
the reason why the startup uses an out-of-common sense tool called hot air ballooning, rather than the basic way to use rockets to move into space, is that the way rockets are used is so tricky and inconvenient.
let's say you use a rocket to travel in space. aside from the fact that too few people can ride rockets at once, they must undergo separate adaptation training to adapt to a space environment that differs from earth.
above all, it must overcome the enormous pressure that rockets place when they rise above earth's gravity. in other words, the elderly who wish to travel to space have no choice but to give up, because only a healthy person can board.
space travel using hot air balloons has the advantage of being able to activate space travel even more in that it solves all the problems that can arise when using these rockets at all. even if you are in poor physical condition or older, you can easily reach the stratosphere as if you were riding a ride.
in particular, space travel using hot air balloons is expected to capture the hearts of travelers who are reluctant to travel in space because they do not need a separate spacesuit and can board as they are wearing it.
on the other hand, the advantage of space travel using hot air balloons is that they can communicate with the ground after reaching the target point. the developer also stated that weddings are possible in capsules, and if commercialization takes place, it is expected that wedding scenes in space will be watched on the ground.
SpacePuspective, a developer, said it plans to actually carry people and fly in 2023, two years later. In response, co-founder Jane Poytner, chairman of the Board of Directors, said, "Space travel at an altitude of 30 kilometers is likely to be a starkly different sight than the earth seen through conventional spacecraft or space stations."