Rainbow Six Siege Update Version 1.69 Patch Notes PS4 Xbox One PC Details Full Here 2019
Rainbow Six Siege Update Version 1.69:
GAMEPLAY
UPDATED PARAMETERS FOR REVERSE FRIENDLY FIRE INTERACTIONS WITH HOSTAGE
RFF triggers for hostage interactions have been aligned to be more reflective of global RFF parameters
LESION GU MINE CLOAKING
Lesion Gu Mine cloaking mechanics have been updated with Echo's cloaking mechanic to prevent detection through ballistic shields.
IDLE KICK
Reduced Idle kick timer during prep phase.
Additional new idle-kick feedback warning prompt.
BUG FIXES
Fixed – Attackers can break their rotation axis through a series of steps, allowing them to spin like a top. No more Beyblade.

Fixed – Placing certain gadgets (Jammer, Prisma, Evil Eye, etc.) in front of a destructible wall segment can interfere with later attempts to reinforce.

Fixed – Shield operators can see an invisible Yokai VFX through their shield when the glass is damaged.

Fixed – Players can lose partial functionality if they started to defuse at the same time as another defender.

Fixed – Sometimes the Defuser can be pushed outside the bomb site by interactions with barricades and wall

reinforcements.

Fixed – Players are kicked after putting the hostage in DBNO during prep phase.
OPERATORS
ECHO
Fixed – Echo drones fixed on a ceiling hatch continue to stay in place even after the hatch is destroyed.
MOZZIE
Fixed – Mozzie's hacked drone view for Defender Operators in Support mode are in color when they should be black + white. (Only Mozzie should see hacked drones in full-color).
NOMAD
Fixed –Airjab proximity SFX is not present in replays.
NØKK
Fixed – Glitches feedback in first person POV continues playing after leaving rappel.
WARDEN
Fixed –HUD becomes larger when deploying a shield, placing a reinforcement, or when on a ladder.
TWITCH
Fixed – Shock drone's beams cannot travel through railings on some maps to destroy cameras

Fixed – Twitch drone view for Defender Operators in Support mode are in color when they should be black + white. (Only Twitch should see her drones in full-color).
LEVEL DESIGN
BANK
Fixed – Players can vault the shelves at 1F Electrical Room.

Fixed – Drone can be thrown into the ceiling of 1F Teller's Office.

Fixed – Missing entry prompt when rappelling down from EXT Low Roof Skylight.

Fixed – Operators clip through the South building's wall when rappeling down EXT Low Roof while holding them hostage.

Fixed – Lesion cannot deploy his Gu mines on a specific location at the entrance of Exit Tunnel.
BORDER
Fixed – Players can vault and go through ceiling areas of EXT Pedestrian Customs.

Fixed – Missing drone collision within 1F Workshop allows drones to scan without being spotted.
COASTLINE
Fixed – Attackers can vault onto the purple tarps from EXT rooftop.

Fixed – Defender drones lose reception in the 2F VIP Lounge drone hole.
CONSULATE
Fixed – Drones can be thrown between the floorboards above B Garage.
CLUBHOUSE
Fixed – Obstructed ADS vision in B Escape Tunnel.

Fixed – One of the soft walls in B Container cannot be reinforced from the outside at EXT Construction Site.
FORTRESS
Fixed – LOD issues with glass display in 2F Museum Room.
HEREFORD BASE
Fixed – Missing barricade at the start of a round in 2F Sewing Room.
VILLA
Fixed – Various window clipping and texture issues.

Fixed – Flash Bang effects can pass through the stained glass windows on Villa onto the other side.

Fixed – It is difficult to deploy Gadgets on some of the windows/flat window surfaces where they should be able to be deployed.
KAFE
Fixed – LOD issue in 2F Pillar Room.

Fixed – Players can prone and hide in a shelf in 3F Bar Backstory.

Fixed – Blocked windows from previous Kafe showing red outlines during the preparation phase.

Fixed – Operators can hide inside the cupboards in 1F Dining Room

Fixed – Floating debris after destroying the wall in 2F Fireplace Hall.

Fixed – Minor missing visual elements.

Fixed – [Situations] Drone can remain stuck inside a tree after spawning in EXT Park.
OREGON
Fixed – Missing collision with doorstep when the floor is destroyed allows gadgets to pass through a beam.

Fixed – Operators can clip through the B Tower Stairs.
OUTBACK
Fixed – Players can vault onto the vending machine in 2F Garage Lounge.
SKYSCRAPER
Fixed – Missing compass location after rappelling towards EXT Dragon Statue.
USER EXPERIENCE
Fixed – Spamming of special characters in All Text chat causes freezing.

Fixed – Players are put into a situation instantly after cancelling a discovery queue.

Fixed – Updates to various UI elements.

Fixed – Fixes for some modeling and texture issues.

Fixed – Swapping between guns will make ADS to be offset when in Support mode.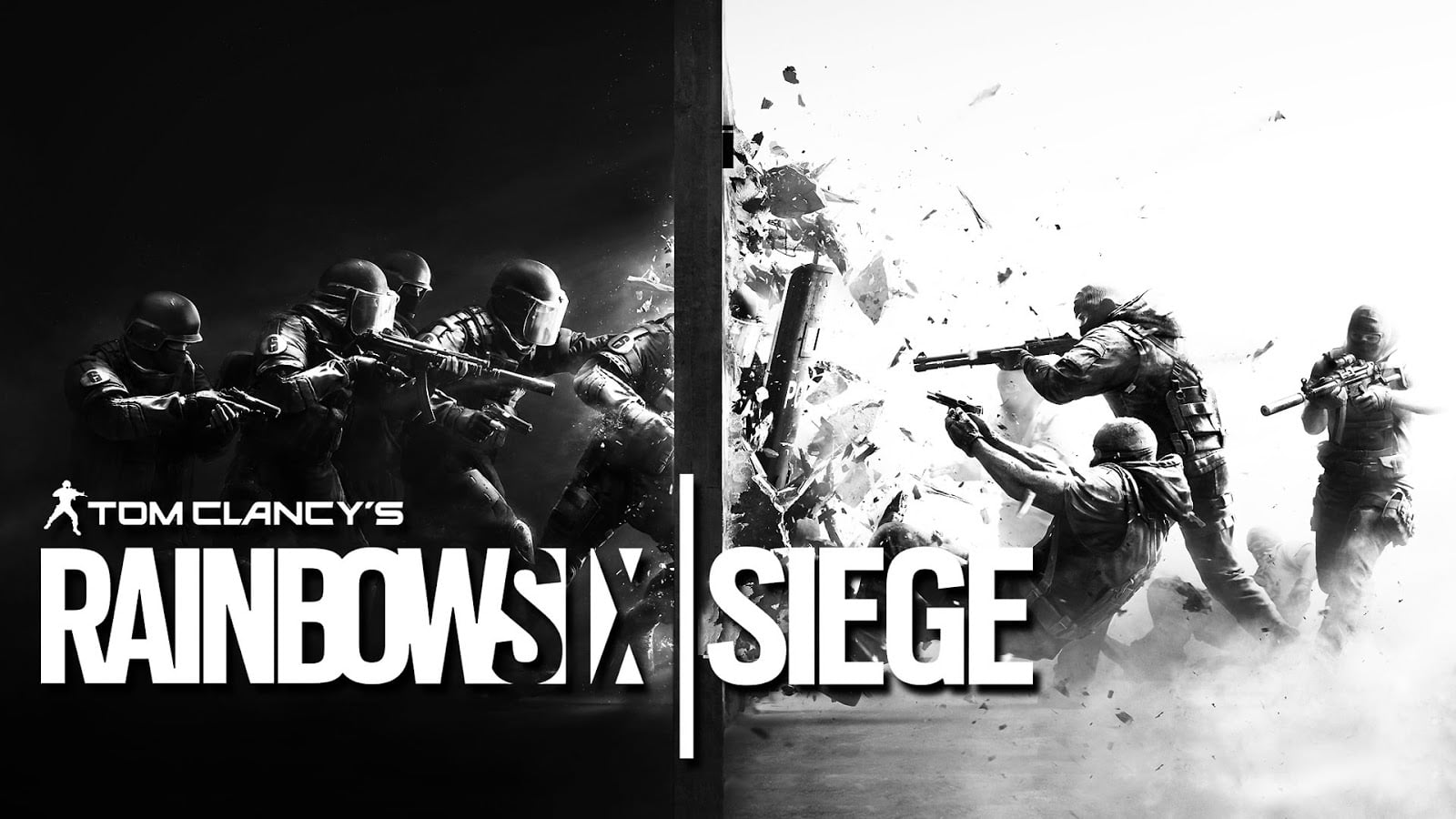 ABOUT THIS GAME
Master the destruction and instrumental art in Tom Clancy's Rainbow Six: Siege. Facing the intense melee, high lethality, strategic decision-making, teamwork and explosion scenes. The fierce gun battle and expert strategy perfectly inherited the spirit of Tom Clancy's "Rainbow Six" series of games, allowing players to enjoy it and experience a new era.
Use high-quality destruction and equipment to lead players to a new style of attack.
Fight side by side with the team to defend, and build the surrounding environment into a strong base. Set traps, consolidate fortresses, and create defenses against enemy offensives.
Lead the team through the narrow passages and roadblocks as they attack, crossing the sturdy walls. Use strategic maps, reconnaissance drones, and rope drop skills to develop an offensive plan to deal with various battle situations.
Choose from a large number of highly trained special forces special police officers from around the world. Deploy the latest technology to track enemy movements. Destroy the walls and kill new battle routes. Break through the roof slabs and create new flaws. Use every weapon and instrument in the deadly weapon to master the enemy's whereabouts, manipulate and destroy the enemy and its surroundings.
"Rainbow Six: Siege" is constantly evolving, allowing players to continue to experience new strategies and tactics. Each update will introduce a new siege rule that includes new SWAT officers, weapons, equipment and maps. In the face of ever-changing scenes, we worked side by side with our friends, becoming a distinguished and astounding special police officer who
competed with global masters in the rankings. Lead the best lineup, participate in the weekly tournament competition community, or watch the exciting content of the most professional team in the "Rainbow Six: Siege" professional league
Rainbow Six Siege Full Version Free Download
How to Install?
1. Click on "Download Game" button.
2. Download "Rainbow Six Siege" Installer (Supports Resumable Downloads).
3. Open the Installer, Click Next and choose the directory where to Install.
4. Let it Download Full Version game in your specified directory.
5. Open the Game and Enjoy Playing.
If you face any problem in Running "Rainbow Six Siege" then please feel free to comment down below, I will reply as soon as possible.
Rainbow Six Siege Update Version 1.69 Patch Notes PS4 Xbox One PC Details Full Here 2019, Rainbow Six Siege Update Version 1.69 Patch Notes PS4 Xbox One PC Details Full Here 2019, Rainbow Six Siege Update Version 1.69 Patch Notes PS4 Xbox One PC Details Full Here 2019, Rainbow Six Siege Update Version 1.69 Patch Notes PS4 Xbox One PC Details Full Here 2019, Rainbow Six Siege Update Version 1.69 Patch Notes PS4 Xbox One PC Details Full Here 2019, Rainbow Six Siege Update Version 1.69 Patch Notes PS4 Xbox One PC Details Full Here 2019 Rainbow Six Siege Update Version 1.69 Patch Notes PS4 Xbox One PC Details Full Here 2019