Star Wars Battlefront 2 Update Version 1.35 New Patch Notes For Xbox One PC PS4 Full Details Here 2019
Star Wars Battlefront 2 Update Version 1.35 
RELEASE NOTES
Added new Community Quests to take place over July. The new quests will unlock animated Victory Poses and new Voice Lines for Obi-Wan Kenobi, Yoda, Darth Maul, and General Grievous.

Added new Phase I Trooper bundles for all Legions.

Fixed an issue where a round on Starfighter Assault and Hero Showdown could begin and end without the player number criteria having been successfully met.
HEROES AND VILLAINS
Fixed a visual issue where impact VFX would incorrectly trigger when playing as Vader and attacking while holding the Block button.

Fixed an issue where Vader's Lightsaber would stop being visible when switching the lightsaber off before throwing it against an opponent.

Visual tech animation improvements to the chest plate of the General Kenobi appearance.

Fixed an issue where sprinting or dashing while Count Dooku's Duelist ability was active, would reset the ability's animation speed.

Community Request: Changed Finn's Covert Leader Star Card to take effect whenever Finn defeats an enemy.

Community Request: Obi-Wan Kenobi is now immune to enemy Force abilities while performing All-Out Push.
REINFORCEMENTS AND VEHICLE
Fixed a visual issue where the Droideka's energy shield would not be visible when in the Squad Spawn screen, after joining a game already in progress.

Added Milestones for the Droideka and TX-130.

Fixed an issue where the AT-ST could occasionally defeat heroes in one-shot.
MISC
Fixed an issue where the weapon would occasionally disappear after combat rolling and shooting at the same time, when in the first-person view.
Known Issues
Because of an issue that came up late in the process, the "Charged and Ready" Milestone is not accurately tracking dealt damage. The issue will be resolved in the next update.

Kylo Ren's Pull ability can still interrupt Obi-Wan's All-Out Push. This will be changed in the next update.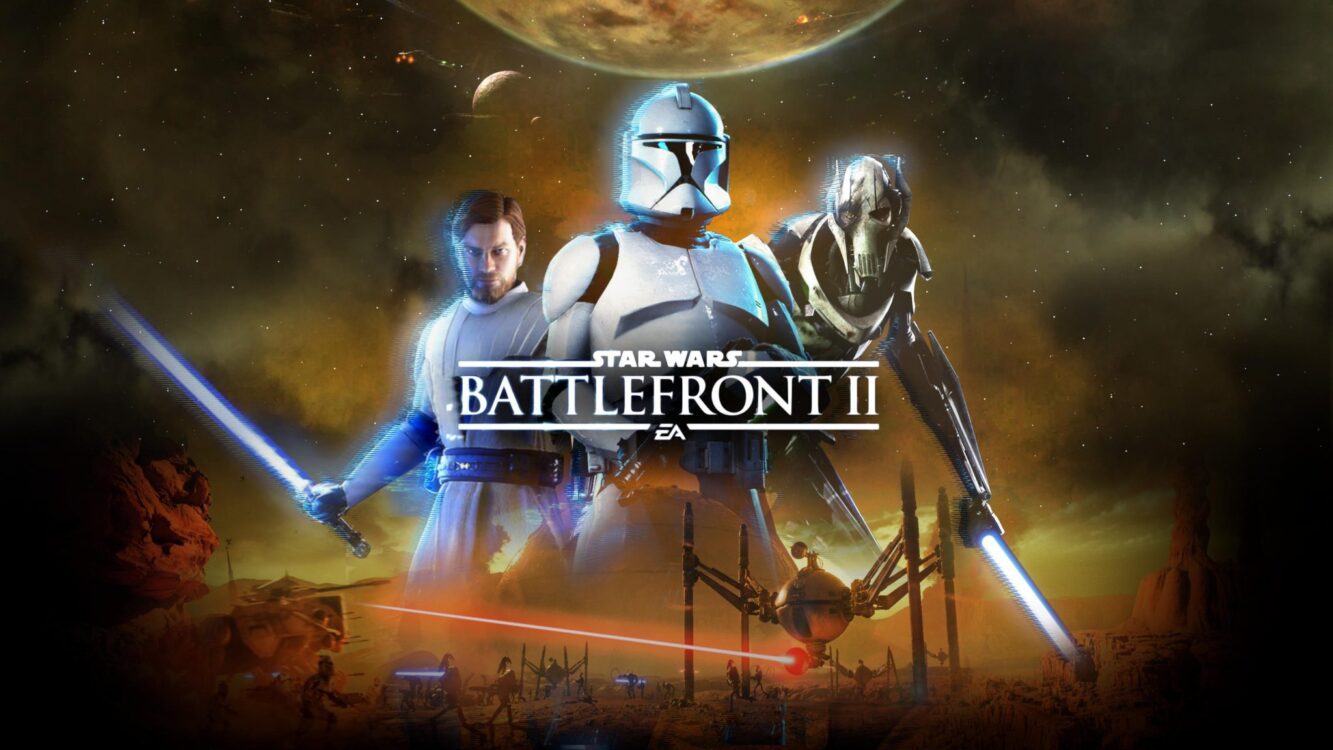 ABOUT THIS GAME
With brand new space combat, playable Jedi characters, and over 16 all-new battlefronts, Star Wars Battlefront II gives you more ways than ever before to play the classic Star Wars battles any way you want.
GAMEPLAY:
Enhanced Single-Player Experience – Join the rise of Darth Vader's elite 501st Legion of Stormtroopers as you fight through an all-new story-based saga where every action you take impacts the battlefront and, ultimately, the fate of the Star Wars galaxy.
All New Classic Trilogy Locations – Fight inside the corridors of the second Death Star, in the marshy swamps of Dagobah, and even aboard the Tantive IV, Princess Leia's Blockade Runner, as seen at the beginning of Star Wars Episode IV: A New Hope.
More Classes and Vehicles – Now choose from six distinct soldier classes, plus bonus hero characters for each of the four factions: Rebels, Imperials, CIS and the Republic. Then jump into more than 30 diverse ground and space vehicles, including the clone BARC speeder, AT-RT, and new Jedi Starfighter and ARC 170.
PLUS Improved Online Features – Engage in massive online battles with multiplayer action for up to 64 players. Play five different online game modes including Conquest, Assault, one-and two-flag Capture the Flag, and Hunt.


Now for the first time, Star Wars Battlefront II lets you…

Fight as a Jedi – Earn the ability to wield a lightsaber and use Force powers like Yoda, Darth Vader, and many other heroes and villains.
Battle in Space – Dogfight in X-wings, TIE fighters, Jedi starfighters, and other classic starcraft, or land your ship on a star destroyer and fight it out on foot aboard enemy ships.
Play 16 New Locations – Battle across Star Wars: Episode III environments such as Utapau, Mustafar and the epic space battle above Coruscant.
Star Wars Battlefront 2 PC Version Full Game Free Download
How to Install Game?
1. Click on "Download Game" button.
2. Download "Star Wars Battlefront 2" Installer (Supports Resumable Downloads).
3. Open the Installer, Click Next and choose the directory where to Install.
4. Let it Download Full Version game in your specified directory.
5. Open the Game and Enjoy Playing.
If you face any problem in Running "Star Wars Battlefront 2" then please feel free to comment down below, I will reply as soon as possible.
Star Wars Battlefront 2 Update Version 1.35 New Patch Notes For Xbox One PC PS4 Full Details Here 2019, Star Wars Battlefront 2 Update Version 1.35 New Patch Notes For Xbox One PC PS4 Full Details Here 2019, Star Wars Battlefront 2 Update Version 1.35 New Patch Notes For Xbox One PC PS4 Full Details Here 2019 Star Wars Battlefront 2 Update Version 1.35 New Patch Notes For Xbox One PC PS4 Full Details Here 2019