As Samsung promised that it would do today, it has publicises the Galaxy Watch Active2, its latest smartwatch. One of the key new features is the Touch Bezel, which is a digitally rotating bezel that "harmonizes immaculately with the newly enhanced One UI".
That bezel is on the 360×360 Super AMOLED screen, which does support a full-color ambient display. The Galaxy Watch Active2 comes in 40mm and 44mm flavors, with 1.2- and 1.4-inch displays, consecutively.
There's also a My Style watch face that will let you take a photo of yourself and it will suggest strap options and different watch faces, based on Samsung's color extraction procedure. And of course, it's all part of the Galaxy ecosystem, so if you've got a Samsung smartphone, the Watch Active2 will work even better. You can use it to control your camera, similar to the functinality on an Apple Watch.
The Galaxy Watch Active2 can track "more than 39" (40?) workouts, and there's an updated Running Coach that can check your pace in real-time. It has some new sensors on the back as well; sensors in the watch include heart rate monitoring with eight photodiodes, ECG, accelerometer, gyroscope, barometer, and ambient light.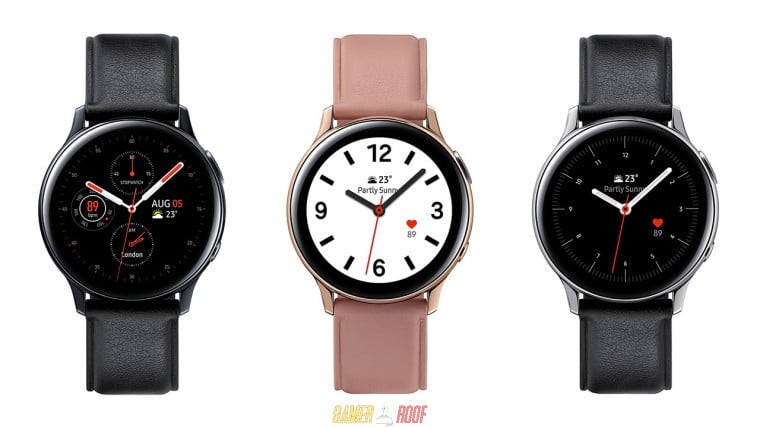 Another key feature is 4G LTE, which means that your watch can be connected to the internet even when you're nowhere near your phone. You can use it to stream music via Spotify, and more.
The Samsung Galaxy Watch2 is powered by a dual-core 1.15GHz Exynos 9110 and a 247mAh or 340mAh battery in the 40mm and 44mm models, respectively. There's 4GB of storage, along with 768MB RAM in the Wi-Fi-only model and 1.5GB RAM in the LTE variant. The aluminum one weighs in at 26g and 30g for the 40mm and 44mm models, and the stainless steel ones are 37g and 44g. LTE is only available on the stainless steel one.
You'll be able to pre-order the Galaxy Watch Active2 on September 6 for a September 26 release, starting at $279.99 and $299.99 for the 40mm and 44mm models, respectively. The LTE versions will be available on September 27 through AT&T, Sprint, T-Mobile, U.S. Cellular, and Verizon.
Samsung releases Galaxy Watch Active2 with rotating bezel and LTE